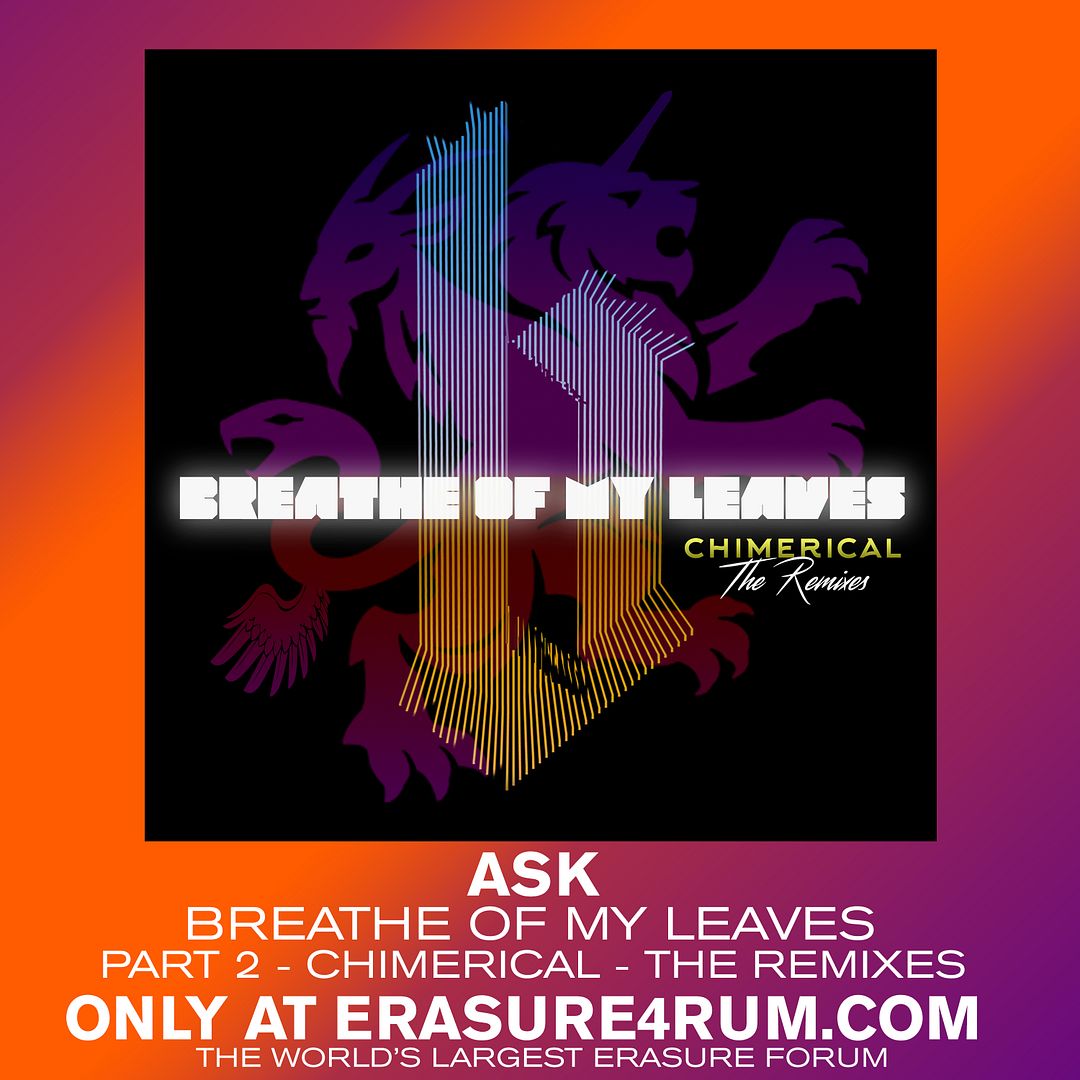 Chimerical-The remixes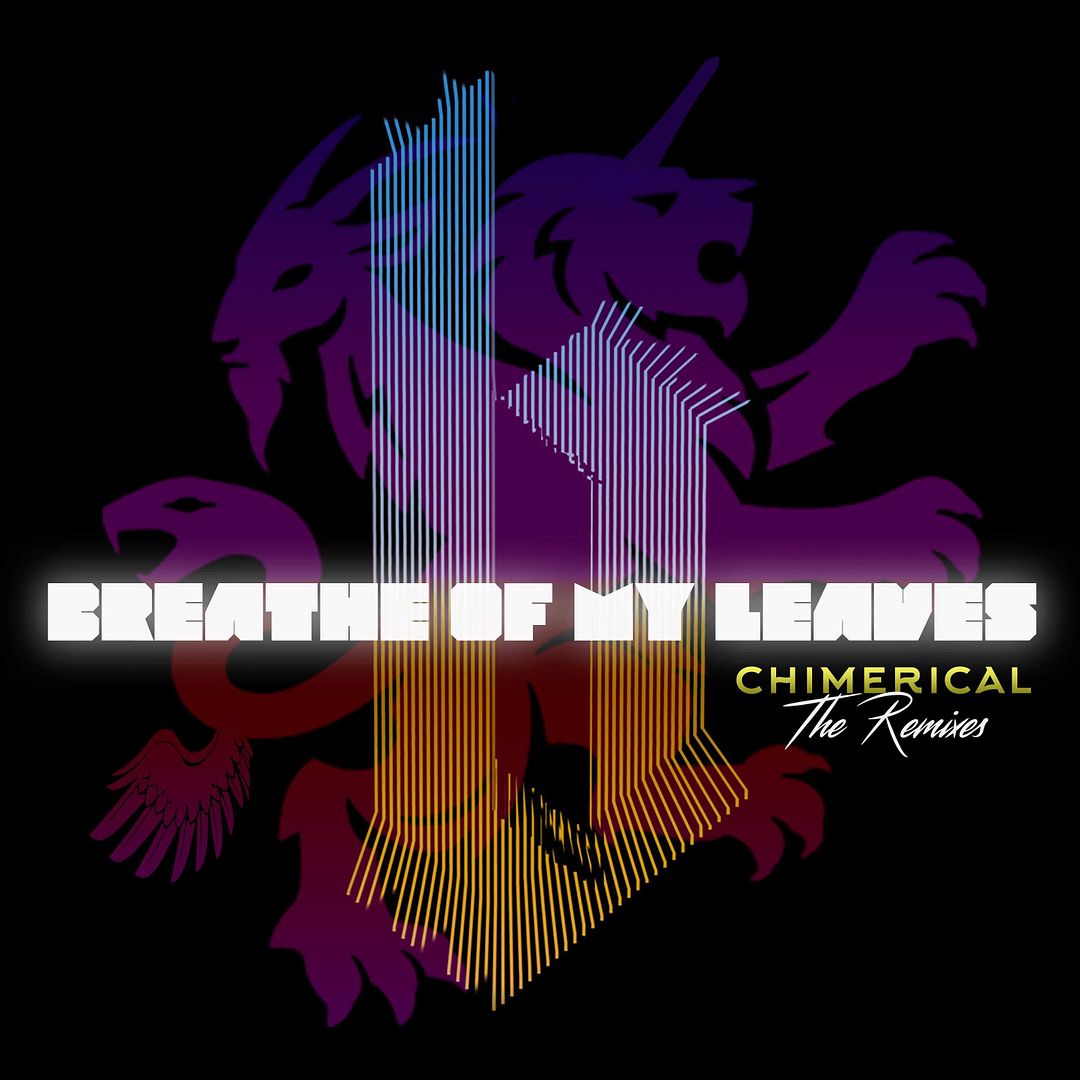 Chimerical - The Remixes (Out October 11th)



01. Love You Lately feat. Jordan Gant (Black Discoid Mix)
02. Spacebird feat. Bridget Gray (LorD & Master Mix)
03. Glowing Pacific (Matthias Mix)
04. Haris Alexiou (Platesmasher Mix)
05. Spacebird feat. Bridget Gray (People Theatre's Cosmic Mix)
06. Love You Lately feat. Jordan Gant (MDA Mix)
07. Dancing With My Hallucinations (Renaissance Mix)
08. Spacebird feat. Bridget Gray (MDA Celestial Mix)
09. Glowing Pacific (Maelstrom Of Prisms Mix)
10. Haris Alexiou (Antelucan Mix)
11. Spacebird feat. Bridget Gray (Roadrunner Astronomers Mix)
12. Love You Lately feat. Jordan Gant (Darren's Breathless Mix)
13. Spacebird feat. Bridget Gray (Silver Cord Mix)
14. Haris Alexiou (Hollowlove's 12" Odyssey)
15. Love You Lately feat. Jordan Gant (Shelter Extended Mix)
16. Spacebird feat. Bridget Gray (MDA Twilight Mix)
17. Haris Alexiou (George V Chillout Mix)
Erasure4rum Asks Breathe Of My Leaves about Chimerical
1. What made you decide to compile the remix album 'Chimera'?
The idea came to me after hearing how solid the quality was of the remixes after the first single came out. I thought to myself, if the remixes to the remaining singles come out this good, it would make for such a great album. There's something about remixes that I really love because they're me but they're not really me. So I get to listen to my songs and experience them through a variety of different filters.
Also, a lot of my favourite bands in the past, like Erasure, Goldfrapp, Depeche Mode, and Air have put out fantastic remix albums. They're also regular, frequent staples in catalogues of other classic bands like Pet Shop Boys.
2. Which remix for you has the greatest impact on you?
They're all kind of like these special, super-creative gifts given to you by friends and they all have such a sweetness to them because they are the embodiment of those people. It's almost... cute? The artists who have remixed my songs are all artists I look up to and aspire to, so I'd be hard-pressed to put them in any rank. When I listened to them in the order that I selected on the album, I thought "what a diverse journey these take me on."
One thing that was very enlightening was doing remixes for my own songs. Every single of the five I released from Chimera has one or a few done by me as well, and I found it strange being able to just go crazy and try to not be "me." I think, however, when I listen back to my own remixes, they end up sounding more like "me" than even the originals because I was left to my own devices to be indulgent and do whatever I wanted - which ended up being more true to me than I expected. When you're creating an album of songs, you are very much more pushing yourself to focus on the songwriting and create sounds and vibes that you haven't before. When you take those parameters off for a remix of your own material, it's easy to gravitate back to your core, even though you think you are being more courageous and wild.
3. Remixes can take a track on a journey you would never imagine,have any of these mixes come back to you and you've thought this is so far from my vision yet it's amazing?
Yes, a few have surprised me, either due to massive tempo or even genre-change. The thing is, a lot of remixers ask me what I want beforehand, but I want to be surprised. There is no right or wrong, and what is most special to me is when they are utterly themselves with no interference from me. It's odd but I can't imagine ever being upset with anyone's remix. It's art and I'm honoured that someone would spend their time and energy creating something for me out of materials I gave them. I think I am almost disarmingly accepting and open-minded.
Though, keep in mind, the songs on Chimera are all so diverse (hence the name of the album) that it really is almost impossible to surprise me.
4. How did you go about choosing what remixes to go on the compilation?
It's simply all the remixes that were done for the five singles from Chimera. I didn't include any songs from Pangeometrica. I also didn't include the "b-sides" of the singles (probably saving all those for another project further in the future). The main mixes and shortened radio mixes are also not included. Having said all that, the new album (Chimerical - The Remixes) has 17 tracks on it and runs 15 or so minutes short of two hours (?!).
5. Tell me about the new MDA Mix of "Love You Lately" feat. Jordan Gant
When Adam Collier (such a sweet and talented guy) created two remixes for the latest single "Spacebird" feat. Bridget Gray, he was so thankful that I asked him to do it because he absolutely loved remixing songs. His band MDA is enjoying a massive success and following, so I felt honoured that he even had the time or inclination to work on anything with measly little me. I jokingly said, "Well, if you love it so much, you could remix another song so that it's the 'new feature/focus track' on the forthcoming remix album." He immediately agreed, and the rest is history.
I think he did such an incredible job on the remix that it could become a hit for the second time in less than two years - it's *that* good. I am so blown away by it. And once again, like I said earlier: these remixes are so great that I don't feel worthy of them.
6. What are your final thoughts on the whole Chimera campaign, and do you have any words for the people who have bought these releases?
I don't think the Chimera album could have gone any better, really. It was such a wild and crazy album of songs so I had no clue how it would have been taken. The album before it came out in 2013 and although there were four or five singles off it, they were in the form of strange music videos as opposed to remixes and radio releases. Chimera may not have been my first release, but it was my first foray into the electronic industry.
I really can't put into words how thankful I am to all the international radio stations who played my releases. It's a bit mind-boggling to think that I released five songs to great success at radio and streaming - only the first and last had any vocals - but they were all still supported. Instrumentals! I am so grateful.
I met so many great electronic music lovers and people who love what I'm creating. I met so many people at those stations who are just wonderful, in addition to all the fantastic artists I worked with. It's funny how it overlaps the same Erasure family I grew up in (including you Mark - my super close friend approaching three decades!), so there's a beautiful warmth and familiarity to it that overlaps onto the new community that welcomed me with such open arms.
I'm so thankful to everyone who buys and streams the music.
I'm also very excited that this new remix album kind of provides a bridge between the last material and the exciting new album I'm already about five songs deep in - and all the new songs so far are with Jordan Gant on vocals, so I'm beaming.
Chimerical The Remixes is available everywhere from tomorrow!

Erasure4rum Asks Jordan Gant vocalist on Love You Lately about working with Breathe Of My Leaves and the future
1. Whats your musical history before teaming up with BOML?
I was with a band in LA/Calgary recording tracks with Mark Needham and other great producers from the era of Fleetwood Mac etc. I met Stephano through a connection to do our first music video, which never ended up coming to life. I walked away from music and Stephano kept sending me tracks to work over. I set up a simple home recording rig, and recorded a couple songs with him. It was a great time. Something different. Challenging.
2. How did the collaboration with Breathe Of My Leaves originate?
The collab was totally organic and chaotic. I just wanted to sing angry lines, provocative ideas, expressive stuff without an intent to market it. I did a couple other tracks with Bab until we sat on love you lately. It was a refreshing song to record. He doesn't really do vocals, and I am all about melody and counter melodies. I loved the simplicity, yet the stark exposure of his music. it seemed to work well together, so we both just did our own thing on the track. neither of us really "collaborated". I had my ideas, he has his, we put them together and just threw it out there.
3. Talk us through the writing process for Love You Lately?
That is a realllllly long answer. so I will try to depict it...
Love is a compression, yet it is a feeling of explosion, hatred, vulnerability, confusion, passion, release and rawness. I sat at my computer for about two days just thinking about imagery that could describe love, and depict it in all facets. You think about all the mistakes you have made in the past, all the things you never said, all the feelings you never explored...selfish or otherwise...
So I just wanted to compile both selfish feelings and thoughts, with the simple fact that even if my mind is racing and I am thinking of so many other things, I really just want to love you to this song, but your gone gone gone. love and privacy, things you can take... you can take them for better or for worse. love can he nutritional and also selfish at times. sometimes completely damaging.
4. Did you find the lyric writing easy when just presented with a musical backing track?
I love being handed a track with no direction. I am usually doing all the playing and writing. So having his raw backing tracks to sing over was something I have never done before. And it was awesome. I did throw some of his stuff through melodyne and gave slight changes to melodies etc. but for the most part I was able to sing rubbish over the track, I would send it back to him, and he would speed it up, or change whatever he felt needed to be changed. Once he heard a melody he opened the songs up more and would send me back awesome renditions.
5. Love You Lately has been remixed & revamped for the new Chimerical Remixes album, how do you think of the new MDA mix?
I am honestly just honoured to be able to sing on anything. I have heard all the remixes and it is humbling. It just goes to show you how anyone can interpret a piece of art. There is no right or wrong, Just a stepping stone for someone else to gain inspiration from. I will say that Stephano has a simplicity about his music. and when you really listen to it, you just feel emotion. So in return, I didn't time my vocals, never snapped it to the grid, It flows, it pushes and pulls, it is just real sounding. And the remixes emulate peoples interpretation of that. They are all great. truly humbling.
6. I hear more tracks are in the pipeline for a future Breathe Of My Leaves release,how is this going and will it be more of the same or are you going to shake it up a little?
We have been talking about some new song ideas. With some great direction. I am very much into exploring vocal tapestry. Huge layers. Vocal swells. etc. Stephano has some "themes" for me to think about, which will be a great challenge as well. I am really just here to compliment his ideas.
We have been working on some ideas that are very much in the vein of MIKKA, spoken word, disturbing thoughts, yet presented in a very polished way. Hard to explain, but it is different and I can't wait to actually record the ideas and see if they make any sense at all! Hard beats, with swirling vocals, trying to balance out the two styles we both have. I think it will be interesting.
Some of his new stuff is very challenging in terms of creating vocal layers. But I am going to do the best I can!
It will be shaken up for sure. I get bored easily. So does Stephano. But I think it will sound very new and refreshing. simple. hopefully catchy. for sure a big pop element to its vocal production.
Albums by Breathe Of My Leaves available for download & all major streaming outlets.
https://www.facebook.com/BreatheOfMyLeaves/
https://twitter.com/iloveBOML
https://breatheofmyleaves.bandcamp.com/
https://soundcloud.com/breathe-of-my-leaves
Erasure4rum would like to thank Breathe Of My Leaves & Stephano Barberis for their help in making this 'Ask' feature.
Exclusive E4M 'Ask' graphics by Stephano Barberis.