Saturday November 2nd 2019
Robin 2 Bilston Wolverhampton,tickets £10 details to follow.
From Wonderland to the World Beyond
---
Facebook post from Stew

As you may know...or not, I sang in a Tribute to Erasure for many years with Andy Coley, from Rubery. He got cancer two years ago but is now fit and well again. A miracle. So we are going to do a reunion gig. The Pop Show will take place on Saturday 2nd Nov at the Robin in Bilston. It's quite a privilege to get a Saturday gig there, so we want as many of you there as possible. Only a tenner a ticket. (Adv), 12 quid on the night. Cheap, like me...Lol. An 80's disco will accompany us... from Pughie.Thanks hope to see you there people. Respect, Always... ahem.
From Wonderland to the World Beyond
---
---
It's in the Robin 2 postal catalogue,I will let you know when it goes live online but tickets can be bought now via phone from venue.
From Wonderland to the World Beyond
---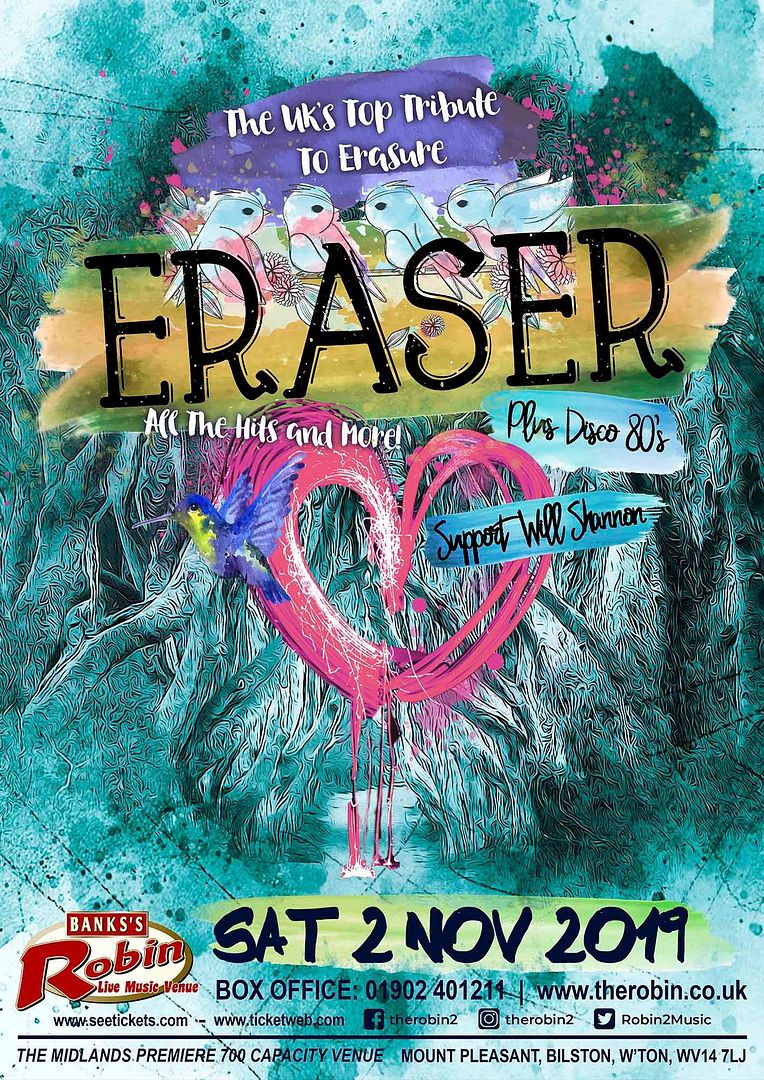 Pop Show featuring top Erasure tribute Eraser - plus disco 80's
+ support Will Shannon
Eraser are the UK' s top tribute to synth pop giants Erasure, fronted by Andy Bell. All the Hits and more in this special reunion Show.
A Little Respect, Sometimes, Blue Savannah, Stop!, Ship of Fools and more. A disco set will accompany the gig.
So get you deely boppers out and come and sing along to some of the best songs of the 80s and upwards. Always, remember
https://www.eventim.co.uk/artist/eraser/?affiliate=RN2

From Wonderland to the World Beyond
---