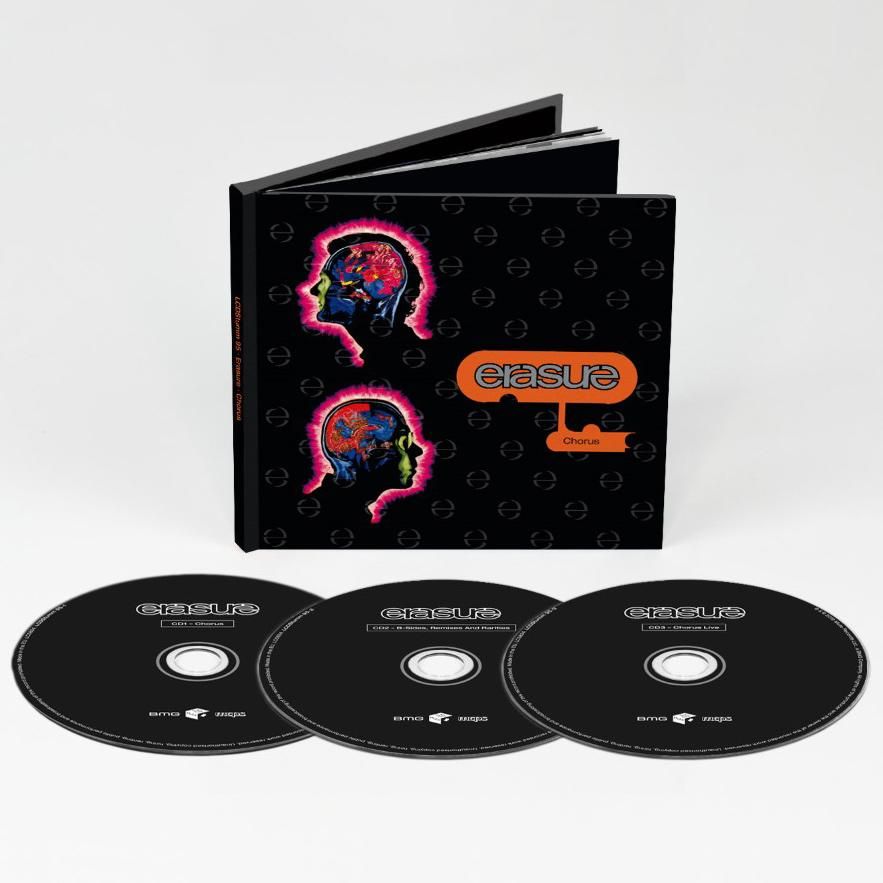 ERASURE: ANNOUNCING A BRAND NEW REMASTERED AND EXPANDED 3-CD EDITION OF 'CHORUS' FOR 2020
Yes indeed! I am absolutely delighted to finally be able to announce that on February 14th 2020 (our Valentine's Day gift to you) BMG will release the latest in their series of remastered and expanded Erasure CD reissues with a 3-CD edition of 'Chorus' which features a remastered version of the original album on one disc; a selection of new and classic remixes, b-sides and bonus tracks on disc two; and a live version of the entire 'Chorus' album, recorded on Erasure's Phantasmagorical Entertainment Tour, on the final disc.
The remastered and expanded edition of 'Chorus' comes in deluxe hardback book packaging with brand new sleeve notes by Mat Smith, and the first 2000 pre-order customers will also receive a bonus pack of four 'Chorus' postcards.
Here's the tracklisting...
CD1 - CHORUS REMASTERED
• Chorus
• Waiting For The Day
• Joan
• Breath Of Life
• Am I Right
• Love To Hate You
• Turns The Love To Anger
• Siren Song
• Perfect Stranger
• Home
CD2 - B-SIDES, REMIXES & RARITIES
• Over The Rainbow - Originally appears on the single 'Chorus'
• Turns The Love To Anger (Vince Clarke Remix) - New Remix
• Perfect Stranger (KROQ Mellow Version) - Taken from 'The KROQ Sessions'
• Waiting For Sex (Full Length) - Taken from the single 'Am I Right?'
• Love To Hate You (Robbie Rivera's Juicy Mix) - New Remix
• Twilight - Originally appears on the 2006 EIS release 'Buried Treasure II'
• Let It Flow - Originally appears on the single 'Am I Right?'
• Chorus (Fishes In The Sea) (Ben Grosse Remix) - U.S. Promo
• Siren Song (Alternative Lyrics) - Originally appeared on the 2006 EIS release 'Buried Treasure II'
• Breath Of Life (Divine Inspiration Mix) - Remixed by Phil Kelsey. Originally appears on the single 'Breathe Of Life'
• Love to Hate You (KROQ Blunder Version) - Taken from 'The KROQ Sessions'
• La La La - Originally appears on the single 'Love To Hate You'
• Mirror To Your Soul - Originally appears on the 2006 EIS release 'Buried Treasure II'
• Waiting For The Day (Demo Version) - Originally appears on the box set 'From Moscow To Mars'
• Perfect Stranger (Acoustic) - Originally appears on the single 'Am I Right?'
• Am I Right? (Glen Nicholls Extended 12" Mix) - New Remix
• Home (Minute Taker Remix) - New Remix
CD3 - CHORUS LIVE
• Chorus
• Waiting For The Day
• Joan
• Breath Of Life
• Am I Right
• Love To Hate You
• Turns The Love To Anger
• Siren Song
• Perfect Stranger
• Home
Format: 3xCD Hardback Book Album
BarCode: 4050538451986
Catalogue Number: LCDSTUMM95
Label: Mute / BMG
Release Date: 14th February 2020