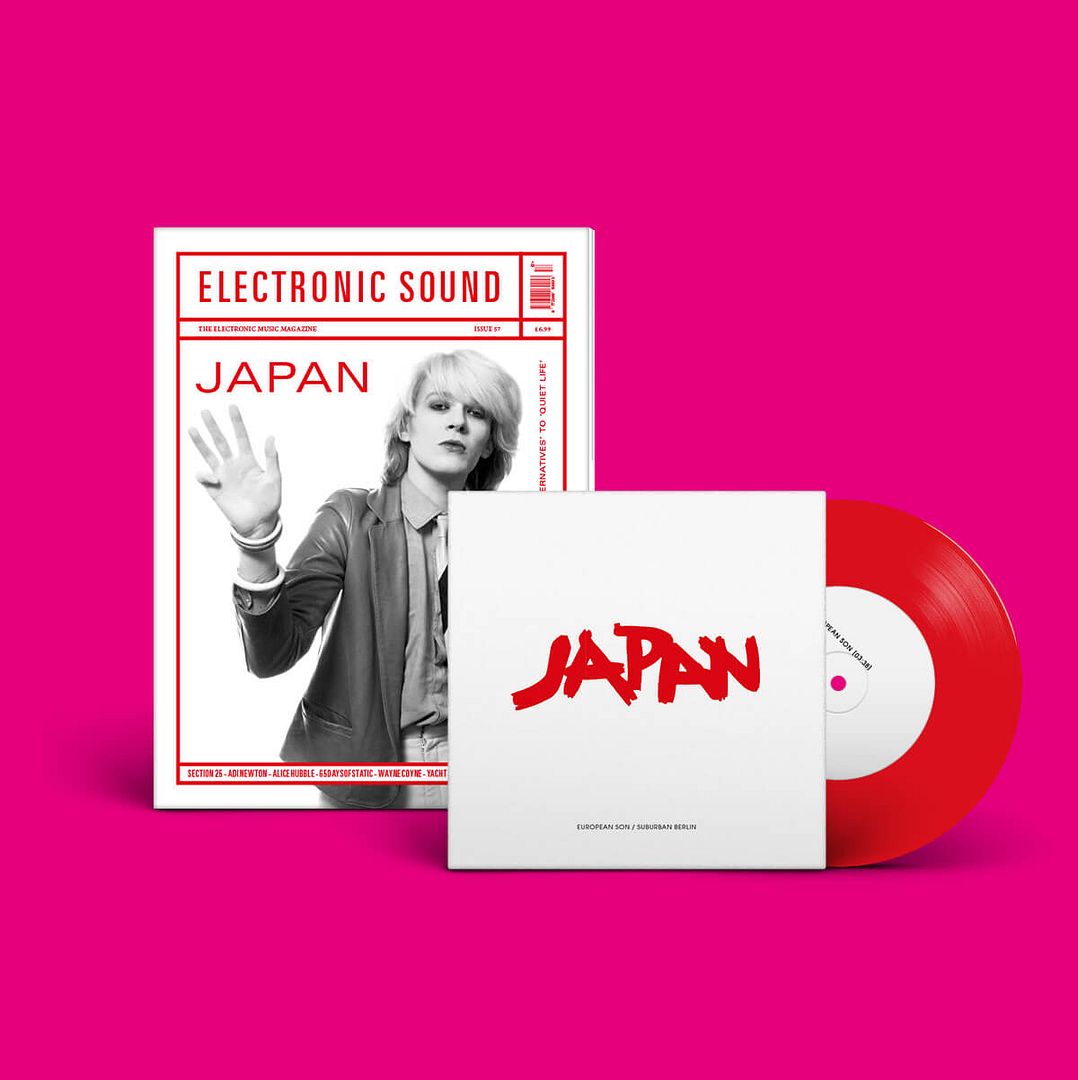 Issue 57 Magazine & Vinyl Bundle
We're all over Japan for the next issue of Electronic Sound, with our focus on the 'Obscure Alternatives' and 'Quiet Life' albums, issued in 1978 and 1979 respectively, and the group's transformation from glam rock outsiders to smart synthpop superstars. Our cover feature explores this fascinating and often fractious period of the band's story in detail and includes contributions from all four surviving members – David Sylvian, Richard Barbieri, Rob Dean and Steve Jansen.
We have plenty of other great interviews elsewhere in the magazine, including Sheffield electronic pioneer Adi Newton, best known as the prime mover of Clock DVA and The Anti-Group, and Factory Records legends Section 25. We also talk to psych soundscapers 65daysofstatic and London synth obsessive Alice Hubble, while Flaming Lips man Wayne Coyne reveals his influences and Graham Massey recalls the making of 808 State's 'Pacific State'.
There's lots more besides – have we mentioned Richard H Kirk or Suicide or Polypores yet? – plus our usual jam-packed front section and full-to-bursting album reviews pages. Quiet life? Not on your nelly.
Limited Edition Red Vinyl Seven-Inch Single: Japan's 'European Son' / 'Suburban Berlin'
We have a fantastic Japan seven-inch to accompany this issue of the magazine too. And on lush red vinyl no less. The A-side is 'European Son', the band's first sequencer-led track, which was originally released in Japan and Canada in 1980 and later reworked for a single in the UK. The flip is 'Suburban Berlin' from the 1978 album 'Obscure Alternatives'. As with all of our records, this is a limited edition pressing and it is available exclusively to Electronic Sound readers.
https://electronicsound.co.uk/product/i ... yl-bundle/
From Wonderland to the World Beyond
Just listening to this album,it sounds great even though it's in reality a bootleg recording and apparently unauthorised by the band.
But great to hear songs that never made the Oil On Canvas live album such classics like Alien,European Son,Life In Tokyo &Bamboo Music.
From Wonderland to the World Beyond