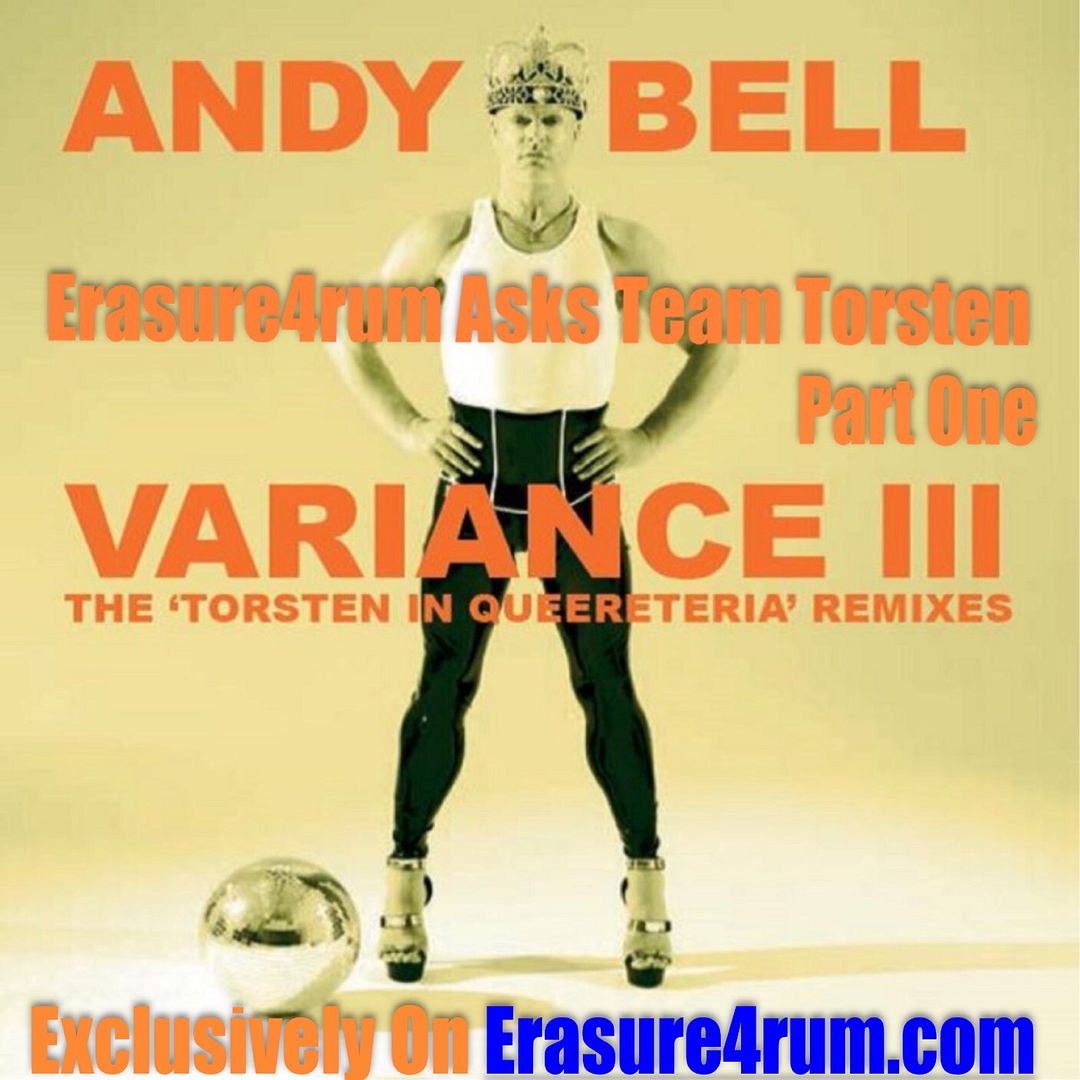 Erasure4rum Ask Team Torsten Barney Ashton-Bullock & Christopher Frost about the new Variance III remix album.
E4M-1. The Torsten albums are quite an eclectic bunch of styles, you can go from classic anthem ballads to club dance tracks via sea shanties. The Variance series though means you can completely change the flavour of a song, mainly club inspired dance smashers, but also it can go down routes never imagined before. Do you give any of the remixers any directions to go indoor do you just allow them to come up with whatever weird & wonderful ideas they like?
BAB-
The remixers are chosen for the sound and style that they already demonstrate so, yes, they do have complete artistic freedom to create what they like. The only stipulation is that the vocal is, somehow, present.
CF-
We generally just let the remixers get on with it but I always provide them with all of the vocal and instrumental tracks should they wish to use them. I know Bronski Beat used my original piano on their remix of We Hadn't Slept For Twenty Years. The majority of other remixes tend to follow the basic song structure but use different electronic instruments, synths and beats and often completely different chord sequences so they are almost like new songs. It often produces surprising results.
E4M-2. Andy has stated the Matt Pop remix is his favourite ever Torsten remix, whats your favourite remix from the entire Torsten remix trilogy?
BAB-
I like Shelter's 'We Were Singing Along To Liza'.
CF-
Matt Pop always produces quality remixes and Shelter have done a couple which we know please the fanbase. Personally, I have a soft spot for the Weston-Super-Mare mOOger! Remix.
E4M-3. I think most fans love the uptempo dance inspired remixes, but on Variance III we have the Jerome Froese remix which is like nothing we've heard before, is it interesting to hear your songs done in such an unusual way?

BAB-
Well, Jerome Froese's pedigree as a member of prog / electronic legends Tangerine Dream during their most commercially successful time meant that he would provide a mixture of the experimental and the melodic. This experimental side of the 'Variance' albums was present previously in the 'Industrial Soundscape Mix' of Weston-super-Mare on the first Variance album. This reflects my musical interests in Cabaret Voltaire and Fad Gadget.
CF-
It's always interesting to hear what people come up with as artists and musicians are inspired by so many different influences and their own experiences and tastes. Most remixes, by their very nature, are likely to be dance tracks so I expect them to vary from the original but it is even more intriguing when someone has a completely different take on them.

E4M-4. Lead Me & Judgement are two new songs that are exclusive to this release,were these originally intended for the Queereteria album?,if so why we're they not included?,did they not fit into the albums four act theme?
BAB-
Lead Me & Judgement in their very first forms were part of an extended EP I was writing for the 80's star Marilyn. They changed a lot by the time they became part of the 'Queereteria' album sessions. Narratively they would have added little to the arc of the scenes that we initially put them in. We decided to record them anyway for Variance III.
CF-
These were songs originally written for a side project that never came to fruition. They evolved and could have been included but somehow they had a different vibe and sound and didn't settle amongst the rest. They didn't add anything to the four movements, which were evolving naturally, and had the potential to detract so we thought it best to pull them.
E4M-5. Finally the bonus tracks are all radio versions apart from the Andy solo version (which we always appreciate more Andy),the radio versions for obvious reasons are more 'radio friendly' as to not offend the easily offended Radio listeners, we don't want newspaper headlines like 'Pensioner chokes on her cornflakes after Erasure's Andy Bell sings obscenities over the airwaves'-when these versions are created do you feel short changed as the original more graphic lyrics are replaced by squeaky clean Nun friendly words?,as these are more watered down versions as apposed to the full on originals,do you feel your art is being dumbed down or do you just think well if this is how my works gets a wider audience I can live with it?
BAB-
Yes, for us to outreach to a larger audience and to have a chance of being played on radio that we have to modify certain lyrics. We do rack up the odd play on Radio 2. I suppose there is a way of looking at it that one's artistic integrity is compromised by so doing, but, it is very useful to have songs available in versions that can be played on radio and TV in support of promotional interviews because, at the end of the day, we are often selling a live show as well as the album and, therefore, have to spread the word far and wide!
CF-
We are always happy for our songs to reach a wider audience by any means. People often say that Torsten songs really speak to them so if changing the lyrics draws in more people helping them to make a connection that is great. The underlying messages of the songs remain the same regardless but perhaps the songs become more accessible for some.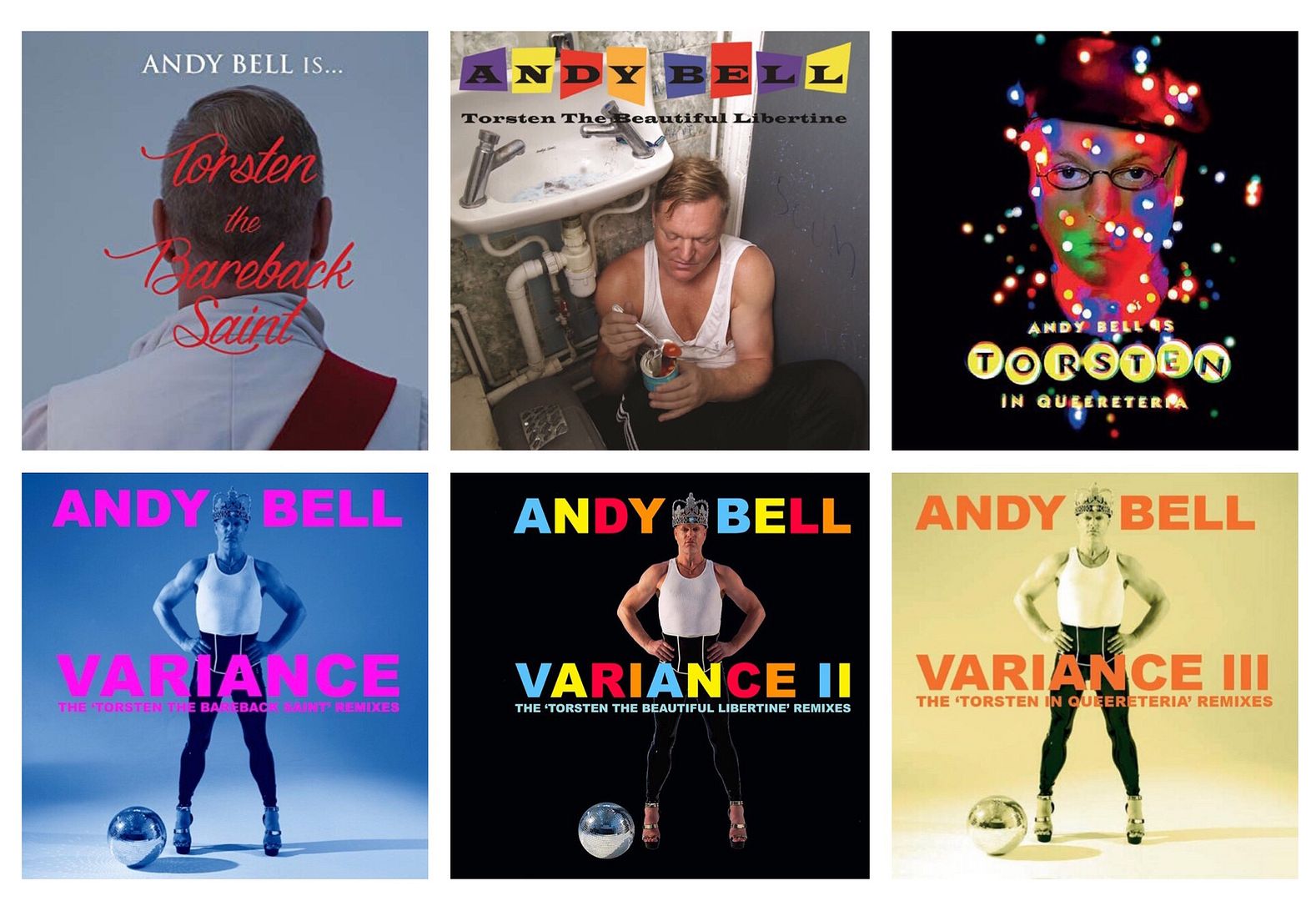 Erasure4rum have contacted the four main remixers for the 3rd instalment of the Variance series of companion remix albums for each of the original Torsten albums.
Torsten The Bareback Saint-Variance
Torsten The Beautiful Libertine-Variance II
Torsten In Queereteria-Variance III
Remixers for this latest Variance III project are-
Matt Pop (previously remixing Erasure Heavenly Action,Love You To The Sky & Andy Bell iPop tracks In Somebody's Arms,Destination & Go Hard Or Go Home along with previous Torsten track Queercore)
Matt Pop
Not Opting Out (Matt Pop Club Mix)(Matt Pop Radio Edit)
Remixing Not Opting Out was challenging because of the song's meandering melody, different time signatures and tempo changes and the absence of an obvious chorus. The first step was deciding on a tempo that would work with all the different sections. Then I had to edit all the vocals extensively, trying to make them fit and sound natural in their new setting. I also changed some of the chords to create a more accessible, poppy mood. Andy and writer Barney Ashton-Bullock suggested I make the most of song's crescendo (the final lyric "Death might undo me but I am not opting out") so I have tried to give that moment drama and impact. I hope my remix combines the theatrical origins of the song with Andy's history in electronic pop and dance.

Ian Donaldson (previously remixing I Don't Like (radio Edit) which appeared on the limited edition book version of Torsten In Queereteria.(Ian is remixing under the Bronski Beat name to which he is a member of the newest incarnation of Bronski Beat)
Ian Donaldson (Bronski Beat)
We Hadn't Slept For Twenty Years (Bronski Beat Remix)
I Don't Like (Bronski Beat Remix)
I Don't Like (Bronski Beat Remix Edit) Previously released on Torsten In Queereteria Deluxe Edition

Bronski Beat were approached by Barney to remix a track for his project with Andy after Andy had said how much he liked our remake of the classic Bronski Beat album The Age Of Consent, it was a no brainer as we had always loved Erasure and Andy's voice. Initially we were commissioned to remix I Don't Like but once Barney let me hear Twenty Years I fell in love with the track and asked if we could remix that too, I got current Bronski Beat vocalist to do some backing vocals for it in my home studio as when I was listening I could just hear him on it, very subtle but I think it worked out perfectly with Andy's vocal, Was happy to see both tracks approved for this project and nice to see Bronski Beat work with another pioneering British Gay Artist! Challenging to take the original songs to a more Club orientated market but lots of fun and I think the end results speak for themselves......

Jerome Froese (debut remix for Torsten from ex Tangerine Dream band member, who had an album out with Claudia Brucken 'beginn')
Jerome Froese
Lowland Lowriders (Jerome Froese Retouched Mix)
Back in 2018, Barney Ashton-Bullock (who is one of the authors of the Queereteria project), had released 'Beginn', an album that I did together with Claudia Brücken (Voice of Propaganda) for Cherry Red Records. Shortly thereafter I was asked if I would like to remix one of the Queereteria Songs for Variance III. Lowland Lowriders was, in my opinion, most suited to my taste for an atmospheric and darker sound. It was my intention not to use the usual house or techno elements, but to use more complex structures and rhythms. Fortunately, Andy's distinctive voice gives every song a unique touch anyway. In the end, I picked out the most important elements from the individual tracks and built a song around them. I had a lot of fun doing it, because in my almost 30 year career, I mostly did instrumental tracks and remixes.

Cheers from Berlin
J.

Shelter (previously being the music creators behind the Andy Bell on the iPop album & also remixing Torsten the track We Were Singing Along To Liza)
Shelter's Rob Bradley
We Hadn't Slept For Twenty Years (Shelter's New Mix)
This was a really tough assignment. The original track has extensive lyrics with lots of freeform improvisation on the instrumentation and vocal melody. The first challenge was to rationalise everything into a more traditional song structure i.e. verse bridge chorus. Getting Barney to send through the lyrics was key so we could visualise the storyline and identify a way to break it down into the various parts of the song. Next came the instrumentation. For Shelter we always start with just a piano to figure out what might be possible. We realised that we needed to push the envelope on the vocal pitch and timing at certain parts and use a vocoder too in order to get the structure we wanted but we pressed ahead to see where we could take the track. Mark provided the backing vocals to deepen and lift the vocal content at bridges and choruses and then, with the structure and vocals in place, it was just a matter of experimenting with different ideas until something jumped out. 20 iterations later at 3.20am on 29th December 2017 version 20 (a strange coincidence?) was born. It's always a joy and privilege for Shelter to be trusted with an Andy Bell remix so thank you Barney and Andy for trusting us and for including the remix on the album!
Press Release
Further info-
https://www.facebook.com/SaintTorsten/
https://www.facebook.com/officialandybell/
https://www.facebook.com/barney.ashton
https://www.facebook.com/christopher.frost.357
http://www.mattpop.nl/
https://www.facebook.com/ian.donaldson.3958
https://www.jeromefroese.com/
http://www.shelterofficial.com/
Andy Bell On Cherry Red Records-
https://www.cherryred.co.uk/artist/andy-bell/
Erasure4rum would like to thank Team Torsten-Andy Bell,Barney Ashton-Bullock,Christopher Frost,Matt Pop,Ian Donaldson,Jerome Froese,Mark R Bebb & Rob Bradley for helping to create this 'Ask' feature ..... here's to the next one.
Part Two/The Review coming Monday.....