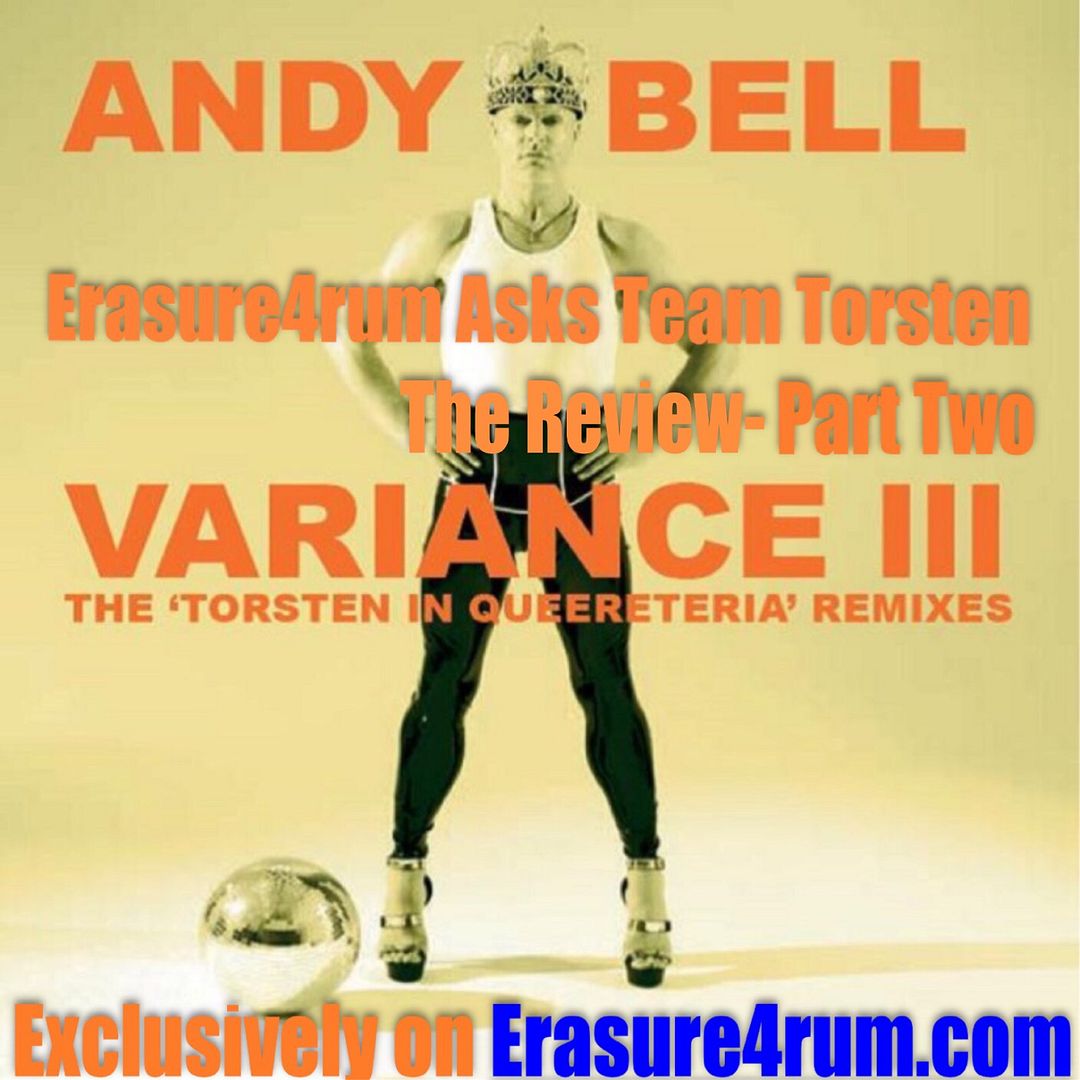 Erasure4rum Reviews Andy Bell Variance III
Erasure4rum have gratefully received an advanced copy of Variance III to review for our members, we thank Barney for the privilege to do this review.

Variance III is the final part of the Torsten Variance trilogy of remix albums to accompany the original Torsten albums.
The album itself is also broken up into 3 sections, we have 5 remixes, two original songs & 4 bonus tracks.
Not Opting Out (Matt Pop Club Mix)
Firstly we have the remixes,Matt Pop has created a club remix that Andy Bell has commented its his favourite remix from the series. Not Opting Out (Matt Pop Club Mix) is well worthy of this comment from Andy,Matt always comes out with great dance remixes this one is no exception from that rule. A great driving beat over a simple synth riff, the quality of the song shining through, fans may well remember the final song from the Queereteria TV stage show this was an ensemble piece to end the show, this track takes you into the clubs and keeps you dancing.
We Hadn't Slept For Twenty Years (Bronski Beat Remix)
This remix by Ian Donaldson (Bronski Beat) gives this a bass drum heavy driving beat remix,with some great piano work taken from the original track, but given a deep club remix.
I Don't Like (Bronski Beat Remix)
Another deep bass drum remix of this classic Torsten track taken from the original Torsten The Bareback Saint album. This is the full extended remix of this track,fans will already know what to expect with this track if they bought the Limited Edition album of Torsten In Queereteria as the radio edit was a bonus track exclusive to that release. I love the stuttering vocal edits very 80's.
Lowland Lowriders (Jerome Froese Retouched Mix)
I must admit I wasn't sure of this remix when I first heard it,as its so different from anything else we've heard previously, but since giving it a go since its grown on me as a track I wouldn't normally go for this king of mix, but its got this percussive sound that's very Germanic and industrial sounding, very mechanical. Andy's vocals are very cut up and low down in the mix, you do struggle to hear them as they seem to be filtered through some effects. I do like it now, its so different its hard to pin point it down to a category. Lets say its something Depeche Mode in very dark mode would love to create.
We Hadn't Slept For Twenty Years (Shelter's New Mix)
Shelter are old hands at remixing Andy,here they have yet another club stomper, if you have heard Shelter's previous mixes its along those lines a sort of Berlin Club vibe,very European sounding. Rob has mentioned that it was a hard job to do with all the extensive lyrics and trying to break it down into a traditional song structure, but yet again they hit the target, also putting some of the vocals through a vocoder to get everything to fit into the mix perfectly. We also get the added bonus of Shelter's very own Mark R Bebb on additional backing vocals.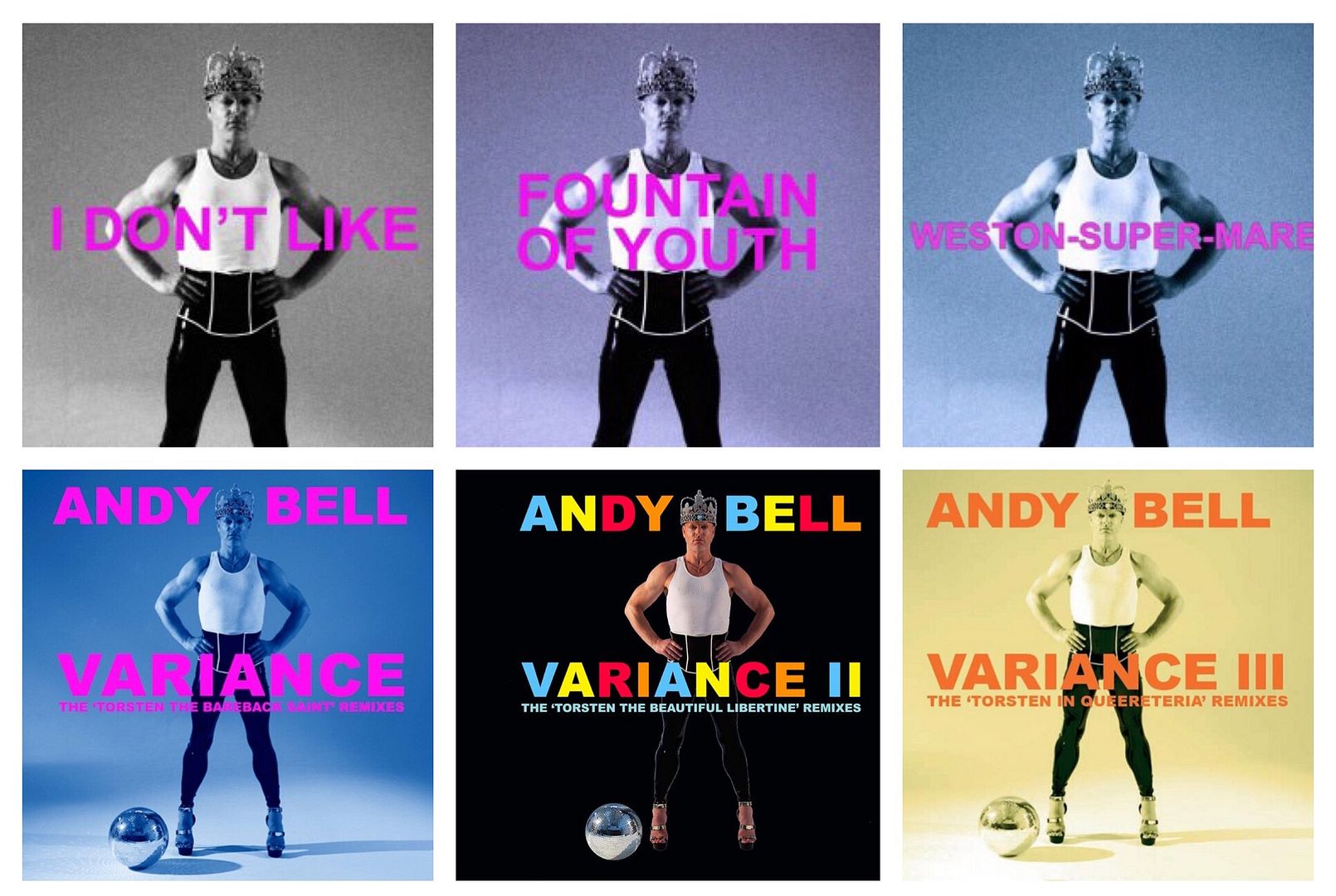 Next we have the two new original tracks exclusive to this album.

Lead Me
I love this track, why it didn't make the album is beyond me (reasons why in previous interview),its a funky little number some nice keyboard work and a great Jazzy nightclub feel,Andy singing about being lead into a place where he can have a little light lechery!
The ending to this track has a great sax solo from Christopher,you remember all the old Carry On nurse films when you'd see a sexy Barbara Windsor walking down the ward and in the background you had that iconic 70's sexy saxophone riff, well this has a Torstenized sexy sax solo that sounds typical Torsten .. its dirty, sleazy & full of the sort of sounds that would make your Grandma drop her knitting
.
Judgement
The second track is also a stunner, these two tracks are to me both more worthy of being just a b-side,its good to see them get a proper album release. Torsten songs are very descriptive and full lyrically with thought provoking words. Both of these are more traditionally the usual song structure of verse chorus verse chorus etc. This is all going to be a constant go to Torsten track, we all thought Torsten was done with, when Queereteria came out, but it seems there is still life after the trilogy, and that's a very good thing.
Judgement (excerpt)
Now we come to the bonus tracks-

If We Want To Drink A Little (Andy Bell Solo Version)
Like with the Electric Blue Deluxe Edition we are given a track that was originally a duet, but this time with just Andy on vocal duty, not really much to review about this one, only that its pure Andy!
Silence Is Golden (Radio Edit)
A shorter radio version (48 seconds if you want to be precise),thankfully whoever has compiled this CD has included all variants for us completists.
We Hadn't Slept For Twenty Years (Alternative Lyrics Radio Version)
An alternate lyric version,verty similar to the original with a few changes of lyrics but its always nice to have alternate versions, just if its down to spotting the changes, makes you listen harder, or in my case I was reading lyrics from Queerteria Deluxe booklet to find what had changed.
Not Opting Out (Matt Pop Radio Edit)
Just the edited shorter radio version a more compact dance edit for us over 50's who can't last a full on extended version!

So the final thoughts on Variance III as the final release in this double trilogy of Torsteny goodness, is that its a definite 'must have' in this series, all 3 original albums have their fair share of eclectic songs, but the Variance releases definitely aim fair and squarely at the dance floor with amazing results, but also there are curved balls thrown in too, which all add the the experience. Another point to make is that not only do we get these dance mixes, but completists also get all the radio edits & mixes, and now we also get full on unreleased album tracks.
This is now then end of Torsten in this trilogy ..... but is this the end of Torsten?,Barney has mentioned that this may not be the end of the Torsten saga, with he return?,will Lady Domina Bizarre return in her own show?,only time will tell and lets face it Torsten has time on his hands.
Erasure4rum would like to thank Team Torsten-Andy Bell,Barney Ashton-Bullock,Christopher Frost for helping to create this 'Ask' feature ..... here's to the next one.
To purchase Variance III and all other available Andy Bell Is Torsten albums-
https://www.cherryred.co.uk/artist/andy-bell/
Variance III is released 6th December 2019