Box Set
10 CD limited edition box set (Limited Edition 1000 copies)
CD 1
The 4th Place
The Game Of Their Lives
CD 2
Knots Pt 1
Knots Pt 2
Knots Pt 3
Knots Pt 4
Knots Pt 5
Transparent Mirrors
Virtual Wishing Tree
On Public Display
CD 3
New Ages Of Man
Town And Country
Helios Suite
Imagine a World...
Timepiece
CD 4
Shine
CD 5
Everytime I See the Sea...
Diaspora Magnet
Tokyo Soundscape
Vegas
2007 FPS A London Conversation
Ghost Machine
CD 6
Starbirth
Futurescape 1
Futurescape 2
Futurescape 3
New City
CD 7
SoundLife London
Kubla Khan Soundscape
Feelosophy
CD 8
The Sound Of Diamonds
Sparking Reaction
Remote Experiments
CD 9 - Pretentious
Music For Multiple Dimensions
Open Our Eyes
Too Deep For Tears
I Think I'm In Love
The East Is Falling
Wilderness/Turbulence
Disappearing Breakthroughs
The Light Far Away
CD 10 - Spectrum Pursuit Vehicle
White (You Are In Heaven)
Yellow (You Are On A Beach)
Red (You Are In The Womb)
Blue (You Are Underwater)
Green (You Are In A Forest)
White (You Are In Heaven Again)
Photos of the finished boxset-
track listing
disc 1
1.The 4th Place (63:26)2.The Game of Their Lives (07:45)The 4th Place A huge party for Sony PlayStation at the Royal Arsenal at Woolwich featuring the invisible 3D soundscape realization of the 'Third Place' - a 'mashup' of sound elements from many PS games to create a surrealistic ambience - also featured a 3 hour ambient live performance with Erasure and Vasko Vassilev.
The Game of Their Lives Soundtrack to accompany award-winning documentary about the 1966 North Korean football team in the World Cup.
disc 2
1.Knots Pt 1 (04:53)2.Knots Pt 2 (03:59)3.Knots Pt 3 (03:59)4.Knots Pt 4 (04:11)5.Knots Pt 5 (04:49)6.Transparent Mirrors (10:42)7.Virtual Wishing Tree (14:39)8.On Public Display (09:25)Knots Pt 1 - 5 Collaboration with Royal Ballet choreographer and dancer Vanessa Fenton - performed in the Clore theatre.
Transparent Mirrors Installation featuring surrealist glass sculptures created by the artists Philip Tsiaras and the master Venetian glass-maker Silvano Signoretti - together with a 3D soundscape of the typical sounds of Venice.
Virtual Wishing Tree Sound installation created for the Interfaith Center in New York. The public were asked to phone a number and answer a question - 'What is your wish?'. The responses were recorded and then integrated into the soundscape.
On Public Display The second collaboration between Illustrious and Vanessa Fenton, this time featuring a new composition and choreography on the subject of the famous fictitious story of Petrushka the tragic clown (voiced in the final scene by Erasure's Andy Bell). The 3D soundscape was installed in Linbury Theatre at the Royal Opera House.
disc 3
1.New Ages of Man (06:12)2.Town and Country (14:33)3.Helios Suite (10:00)4.Imagine a World… (16:00)5.Timepiece (16:00)New Ages of Man The 3rd Royal Ballet collaboration was an electronic series of pieces created to accompany a student choreographic piece by Christina Sundt, this time inspired by original maypole songs.
Town and Country A series of sheds were installed in the huge garden at the rear of the V&A Museum in London - 12 artists were asked to modify the sheds according to their taste. Illustrious created a 3D sound shed featuring the sounds of the British countryside, very rudely interrupted every 15 minutes by extreme urban cacophony.
Helios Suite A series of compositions in 3D sound to accompany the BP Helios Awards - the awards were given for achievements in various brand attributes - Partnership, Green, Innovation, etc.
Imagine a World… This installation is essentially a modified version of 'Virtual Wishing Tree' except this time the question asked to the public was 'What would the world be like if there were no violence towards women?' The final 3D soundscape was installed in the barge House near the Oxo Tower on the South Bank in London.
Timepiece An epic 3D soundscape - 24 hours of content - 12 x 2 hour pieces by different sound artists responding to the sounds of Mexico City - Illustrious contribution featured a composition based around the tonalities of the barrel-organ grinders in the gardens of the Palacio Di Belles Artes.
disc 4
1.Shine (61:00)Shine Illustrious were commissioned to create a 3D soundscape based on the sounds of manufacture and use of cutlery and silverware in the Metalwork Gallery in the V&A Millennium Galleries in Sheffield. Field recordings were made at most of the last remaining cutlery manufacturers in Sheffield.
disc 5
1.Everytime I See the Sea… (11:37)2.Diaspora Magnet (12:09)3.Tokyo Soundscape (02:17)4.Vegas (06:26)5.2007 FPS A London Conversation (06:54)6.Ghost Machine (10:03)Everytime I See the Sea… A powerful exhibition about the aftermath one year on of the Asian tsunami featuring an immersive accompaniment using 3D sound staged at the Truman Brewery.
Diaspora Magnet Three different 3D soundscapes created as part of 'Echo City' - a conceptual meditation on the nature of urban experience - in this case based on Sheffield. A collaboration with several Sheffield artists including Ian Anderson from The Designer's Republic and curated by Jeremy Till for the British Council at the British Pavilion at the Venice Architectural Biennale.
Tokyo Soundscape A five senses installation in Paris to launch the new Kenzo perfume 'Tokyo' - a collaboration with Skrapic Consulting - creating a fully interactive, multisensory impression of contemporary Tokyo.
Vegas To demonstrate their new HD Audio, Illustrious were commissioned to compose an immersive piece for DTS at AES in Las Vegas.
2007 FPS A London Conversation A collaboration with visual digital artists D-Fuse, A London Conversation is a visual and spatial mashup of films about London from the new digital archive at the BFI. 300 metre long projections were enhanced by 3D soundscape outside the National Theatre.
Ghost Machine Bringing the gallery to life - that was our self-imposed brief to reanimate the amazing and enormous Cast Courts at the V&A Museum in London. Mixing and matching different periods of history and geographical locations, this installation was for one night only and was exceptionally popular.
disc 6
1.Starbirth (23:02.Futurescape 1 (08:33.Futurescape 2 (08:46)4.Futurescape 3 (08:37)5.New City (07:22)Starbirth Illustrious was commissioned to create an interlocking series of soundscapes to link the newly renovated Space Galleries at the Royal Observatory at Greenwich, and also the first presentation in the brand new Planetarium. First presented to HM Queen Elizabeth II in person.
Futurescape 1 - 3 A contemplative series of 3D soundscapes composed to create a semi-hypnotic and futuristic ambience at the brand new Global Network Operations Centre for AT&T in New Jersey, USA.
New City Collaboration with Greg Lynn, Alex McDowell and Imaginary Forces to create an immersive 'cave' with back projection, 3D soundscape and state of the art animations. The subject matter is the concept of the whole world's population being sited in one giant city, and the consequences, manifest as a conceptual website.
disc 7
1.SoundLife London (30:00)2.Kubla Khan Soundscape (03:13)3.Feelosophy (24:33)SoundLife London An enormous project - a one-hour 3D soundscape covering the whole of Leicester Square Gardens encompassing a distillation of the sound life of London, with the help of various community groups, youth clubs, schools, ethnic associations and reminiscence groups. With the help of City Of Westminster and the Arts Council.
Kubla Khan Soundscape A soundscape inspired by the famous Coleridge poem 'Kubla Khan' for BBC Radio 4.
Feelosophy A collaboration with Design Bridge to create an exhibition in 3D sound and objects about Clerkenwell.
disc 8
1.The Sound of Diamonds (17:46)2.Sparking Reaction (24:00)3.Remote Experiments (05:42)The Sound of Diamonds A hypnotic and engaging 3D soundscape for installation in a new series of retail stores selling the world's most expensive diamonds = Hearts On Fire.
Sparking Reaction A collaboration with the Science Museum London and BNFL to examine the issues surrounding nuclear power - installed at the Sellafield visitors centre.
Remote Experiments A series of experiments automatically generated by a piece of software called Remote - created by Andy Cameron from Fabrica - webcams are analysed for luminance and movement which then generates a soundscape based on sound palettes created by Illustrious.
disc 9 - Pretentious
1.Music For Multiple Dimensions (14:17)2.Open Our Eyes (07:52)3.Too Deep For Tears (09:24)4.I Think I'm In Love (09:01)5.The East Is Falling (09:35)6.Wilderness/Turbulence (08:01)7.Disappearing Breakthroughs (06:39)8.The Light Far Away (07:43)Pretentious The album was created using Animix 3D visualisation software and a Lake Huron 3D audio processor, Animix being specifically written to help create pieces of music for the auditorium.
The first track 'Music For Multiple Dimensions', was the first piece of music commissioned by and composed for the National Centre for Popular Music in Sheffield, and is performed there several times daily in the Soundscapes 3D auditorium.
disc 10 - Spectrum Pursuit Vehicle
1.White [you are in heaven] (12:37)2.Yellow [you are on a beach] (12:01)3.Red [you are in the womb] (12:39)4.Blue [you are underwater] (12:20)5.Green [you are in a forest] (12:03)6.White [you are in heaven again] (12:15)Spectrum Pursuit Vehicle The tracks draw inspiration from colours and their associated sensations, moods and images, each evoking a different location and creating the related feelings of beauty, harmony and tranquility in the listener.
The recordings originally premiered as part of a 2-hour performance at the Roundhouse in London in February 2000, staged in a white clothed lined room, 12 metres in diameter, covered with the colours referred to in the title of each segment.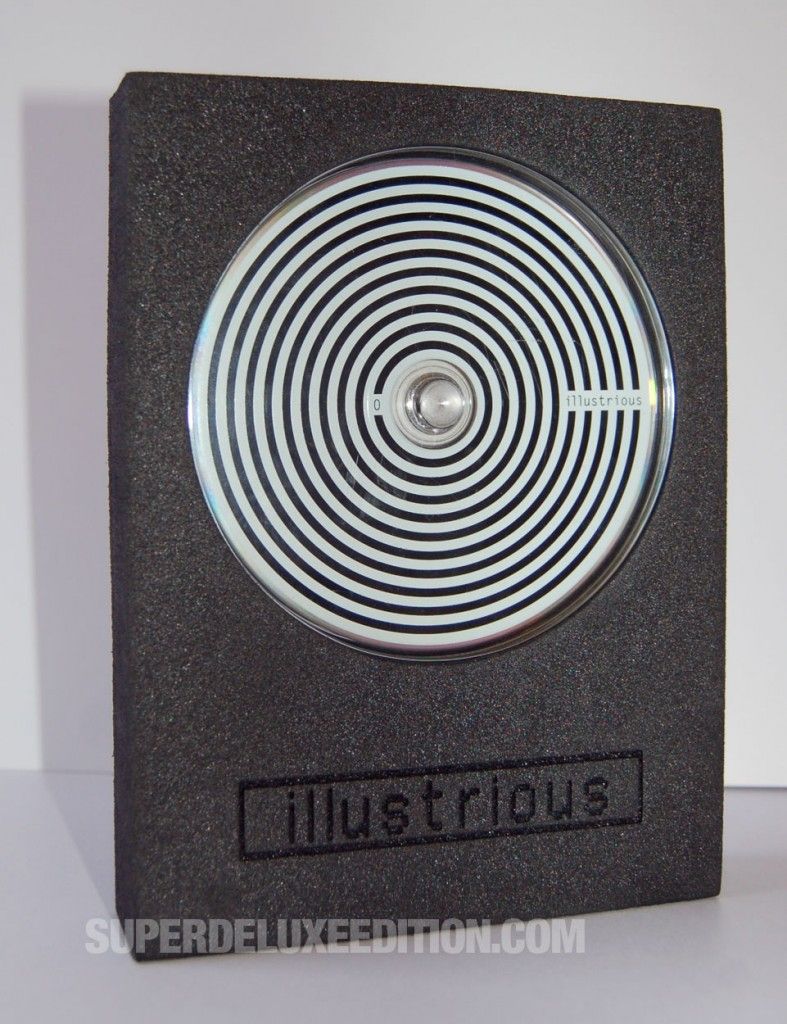 apparently the photos below are an early prototype and may not be what arrives in the post,all photos from-
http://www.superdeluxeedition.com/